Development of visual identity of a design agency based on archetypes
Palavras-chave:
brand, emotions, marketing, strategic asset, symbols
Resumo
A company's brand is not just a name and logo, it is also the company's commitment to customers. Brand is a strategic asset, and therefore, when building a brand, the values, purpose, positioning, and personality of the company are also created. The psychology of archetypes understands the inner meaning of brands and products and helps marketers establish lasting concepts and identities. Archetypes are images, symbols, characters and myths that exist all over the world and transmit information in our collective unconscious. By using archetypes, brands have the ability to connect consumers' most basic emotions and motivations. The objective of this work is to evaluate three logos for a design agency. Three archetypes were defined to develop three logos based on their concepts. The archetypes analyzed here are Mage, Jester, and Creator. A survey was carried out with the brand's target audience to find out if the logo was conveying the archetype's message and defined a positioning for the agency. The results obtained were that it is possible to develop a visual identity based on the concepts of archetypes and pass positive emotions and sensations through them.
Referências
Rua O.L.; Santos C. Linking brand and competitive advantage: The mediating effect of positioning and market orientation. Eur. Res. Manag. Bus. Econ. 2022; 28(2): 100194.
Aaker D. On branding: 20 princípios que decidem o sucesso das marcas. 2015. Editora Bookman, Porto Alegre, RS, Brasil.
Dominici G.; Tullio V.; Siino G.; Tani M. Marketing archetypes: applying Jungian psychology to marketing research. J. Organ. Transform. Soc. Chang. 2016; 13(2): 109-122.
Marciszewska B.; Marciszewski P. The visual arts in society: their role in marketing communication and shaping social atitudes. Sustainability. 2021; 14(3):12-28.
Gilal R.G.; Gilal N.G.; Gilal F.G.; Gong, Z. The role of nostalgic brand positioning in capturing brand equity: Theoretical extension and analysis. Int J Consum Stud. 2022; 46(1): 161-181.
Kelsey D. Psycho-discursive constructions of narrative in archetypal storytelling: A discourse-mythological approach. Crit. Discourse Stud. 2021; 18(3): 332-348.
Kaul P.; Arora S. Reinventing a brand's identity: effect of name and logo announcements on the stock price of Indian banks. J Brand Manag. 2022; 29: 258-270.
Ganassali S.; Matysiewicz J. Echoing the golden legends: Storytelling archetypes and their impact on brand perceived value. J. Mark. Manage. 2021; 37(5-6): 437-463.
McPeek R.W. The Pearson-Marr archetype indicator and psychological type. J. psychol. Type. 2008; 68(7): 52-66.
Gerhardt T.E.; Silveira D.T. Métodos de pesquisa. 2009. Editora UFRGS, Porto Alegre, RS, Brasil.
Dalmoro M.; Vieira, K.M. Dilemas na construção de escalas tipo likert: o número de itens e a disposição influenciam nos resultados? Rev. Gest. Organ. 2013; 6: 52-173.
Hair Jr. J.F.; Anderson R.; Tatham R.L.; Black W.C. Análise Multivariada de Dados. 2009. Editora Bookman, Porto Alegre, RS, Brasil.
Silva B.A.S.; Cardoso, E.L. Os 1001 Arquétipos da Bombril1. Anais do XVIII Congresso de Ciências da Comunicação na Região Sul, Caxias do Sul, RS, Brasil.
Kamlot D.; Calmon P.D.Q. Os arquétipos na gestão de uma marca: aplicação à marca líder do mercado de cervejas brasileiro. Intercom. 2017; 40: 97-120.
Philips P.L. Briefing: a gestão do projeto de design. 2007. Editora Blucher, São Paulo, SP, Brasil.
Stanujkic D.; Karabasevic D.; Zavadskas E.K. A framework for the selection of a packaging design based on the SWARA method. Eng. Econ. 2015; 26(2): 181-187.
Adamski A. Archetypes and the collective unconscious of Carl G. Jung in the light of quantum psychology. Neuroquantology. 2011; 9(3): 563-571.
Reina M.I.; Bucchetti V. Communication Design Against Gender Stereotypes: A Web Tool to involve Design Students in Social Activism. Proceedings of 4D Designing Development, Developing Design.
Kitchen P.J.; Tourky M.E. Integrated Marketing Communications: A Global Brand-Driven Approach. Cham (Germany): Palgrave Macmillan; 2022. Chapter 5, Integrated Communication or Integrated Marketing Communication; p. 69-87.
Darras B. Semiótica dos signos visuais e do design da informação. Líbero. 2014; 17(34): 31-42.
Mark M.; Pearson C.S. O herói e o fora da lei: como construir marcas extraordinárias usando o poder dos arquétipos. 2001. Editora Pensamento Cultrix LTDA. São Paulo, SP, Brasil.
Hahn I.S.; Scherer F.L.; Oliveira M.C.S.F.; Scheid R. Resposta emocional à publicidade em mídias sociais. Rev. Pensam. Contemp. Adm. 2016; 10(1): 140-151.
Oliveira B.; Campomar M.C. Revisitando o posicionamento em marketing. REGE. 2007; 14(1): 41-52.
Sarquis A.B.; Ikeda A.A. A prática de posicionamento de marca em agências de comunicação. Revista de Negócios. 2007; 12(4): 55 70.
Wheeler A. Design de identidade da marca: Guia Essencial para Toda a Equipe de Gestão de Marcas. 2019. Bookman Editora, Porto Alegre, RS, Brasil.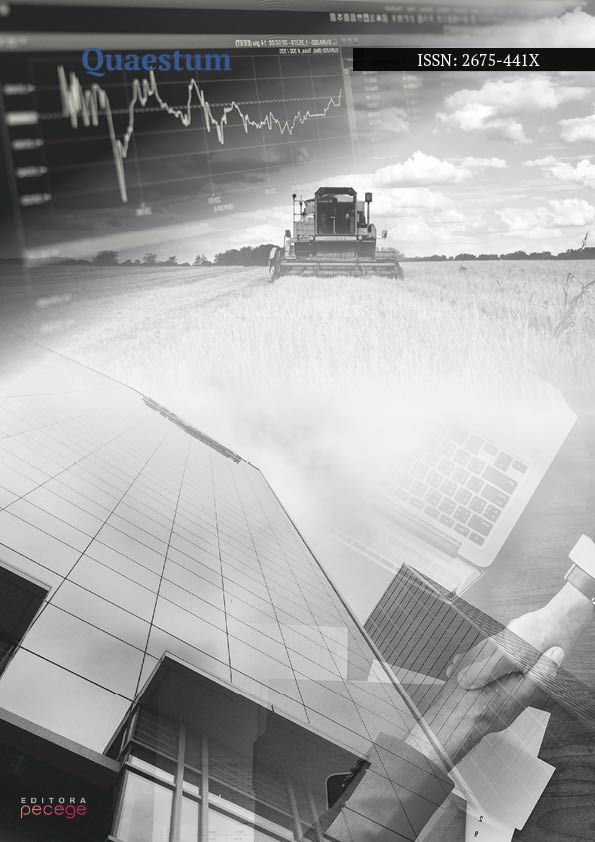 Downloads
Como Citar
Baronio, C., Pagan, N., & Pagan, K. (2022). Development of visual identity of a design agency based on archetypes. Quaestum, 3, 1–15. https://doi.org/10.22167/2675-441X-20220623
Licença
Copyright (c) 2022 Quaestum
Este trabalho está licenciado sob uma licença Creative Commons Attribution-NonCommercial 4.0 International License.